International Women's Day is a day when women are recognized for their achievements without regard to divisions, whether national, ethnic, linguistic, cultural, economic or political.
As we #PressforProgress on International Women's Day we want to raise awareness of:
Women's contributions in the data space;
Data initiatives that may not be part of the broader cultural awareness even if they are well known in their niche;
Women's leadership and contributions within data, at all levels—individual contributor, manager / leadership, executive—as we work towards ensuring that the women doing the work have their voices heard.
To that end, we're profiling 37 women whose clients, managers, employees and colleagues thought of them when asked the question:
Who is a woman who kicks @$$ in data?
This question was viewed by more than twenty thousand people, with most viewers coming from these four countries—U.S., Canada, India and Australia—and the nominations poured in from around the world.
We contacted each of the nominated women, and asked them one question:
"Why do you work in data?"
They work in four broad industries:
Without further ado, meet the women who kick @$$ in data and learn their stories.
・ ・ ・
Consumer Products and Services
Improve global users' online experiences by keeping them safe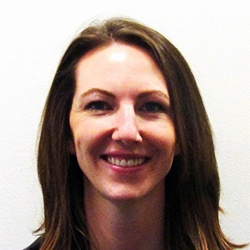 Jen Gennai
Global Head of User Research & Testing, Trust & Safety, Google
"Short-version: At Google, data allows us to make informed decisions that can affect billions of users online.

Personal story version: In secondary school back in Ireland, my math teacher was disappointed when I got an A- in my final year practice exams. His belief in my ability to do better propelled me to study Management Science and Information Systems Studies in the Statistics' department at university, which led me to Google. Now, an Irish immigrant woman gets to analyze data in order to potentially improve the online experiences of billions of global users online by keeping them safe online."
Feed a curiosity to find solutions and solve puzzles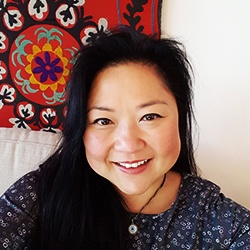 Helena Carre
EMEA Omnichannel Analytics Lead, Kimberly-Clark
"My passion is data, how to organize it and makes sense of it all. The more data, the better. More challenges with data, my curiosity increases to find a solution to put the puzzle together.

I also believe the natural fit with data is aptitude related: always loved maths, programming and music."
Empower others to solve life's ever-present challenges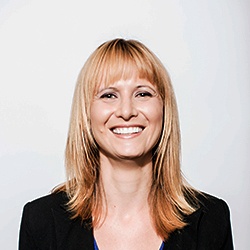 Lauren Beresford, PhD
Principal Data Scientist, Mattel
"As a child I was always intrigued by puzzles. I loved the process of unraveling a solution to a problem. I found my calling in data science because it helps me understand the world around me, but more importantly, it provides a pathway through which I can empower others to solve life's ever-present challenges."
An exciting field, with some extremely smart men and women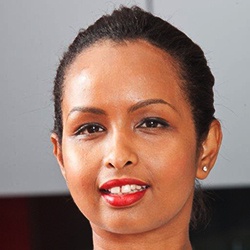 Hibo Ali Griffin
Director, Data Optimization | Digital Advertising, The Globe and Mail Media Group
"First off I love technology, I've always wanted to work in or with tech in some way or other. I work in data and love my current role because I get to use and apply data creatively for advertising.

Data is so powerful and every day I get to use it to support internal and clients marketing decisions and to drive meaningful action. With a background in digital marketing from the agency side, I am able to be a data and marketing specialist and a leader within my organization in ever changing universe of ad technology, precision marketing and data management. Not mention it's an exciting field, with some extremely smart men and women with whom I get learn with and from every day."
Transform hunches into the real deal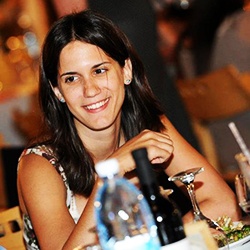 Dana Hirszhorn
Data Analyst, Zeek
"A lot of people make decisions by their hunch, working with data transforms your hunch into the real deal."
Find the story hiding behind the data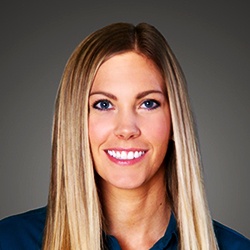 Christina Stathopoulos
Analytical Consultant - Travel, Google
"I have been interested in numbers from a young age. Ever since I was a kid, I was the weird one who actually enjoyed math class! Then I took my first advanced statistics class in high school and I was hooked. My love of numbers, and specifically statistics, set me up for a career in analytics and data engineering. I enjoy working with data because, when used correctly, there is always a story hiding behind the data. Experts are needed to find hidden insights and tell these stories. I really enjoy my work and encourage other women to explore a career in the same."
Every industry needs to leverage data to remain competitive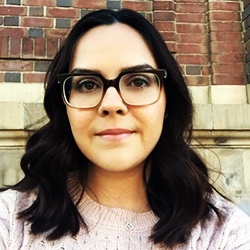 Regina Azevedo
Manager, Insights & Optimization, Toronto Star
"Data wasn't a career area I had ever planned for myself. When I was in post-secondary school, "big data" was barely mentioned. When I graduated, I happened to stumble into web analytics and since then I haven't looked back. The thrill of finding an insight from a data set and providing an analysis or recommendation to a stakeholder and seeing it applied is why I enjoy working in data each day. Knowing that the analysis you completed helped drive a KPI for the business shows the value of the hours put into sifting through the data. The fact that this discipline is cross disciplinary is great—every industry today needs to leverage data in order to remain competitive. Seeing educational institutions now have programs directly related to Digital and Business Analytics, Data Science, etc. is promising as I hope it opens the opportunity for more women to enter the data world, especially if they feel hesitant starting in the computer science route."
Endless opportunity to learn and endless questions to answer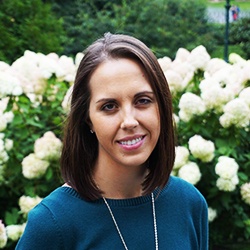 Nichole Urigashvili
Sr. Data Scientist, Research Science, Grubhub
"I work in data for many reasons. The power of numbers and how these numbers represent truth and impact on many levels. The struggle to understand the data and the capability to use it in ways that benefit others. The endless opportunity to learn—learning from the data and what it is telling us, to learning about new methods to model and apply to the data.

I remember an undergrad class, 7 years ago, got me first interested in marketing research, to my first job after college developing simple reports to understand the data and measure performance. This journey from undergrad all the way until now has been a huge learning curve to a point that I am researching and developing algorithms and predictive models. In such a short time frame my understanding of measurement and usage of data went beyond simple descriptive analytics to prescriptive modeling. Data has given me this opportunity to learn because there is never a shortage of data, there are always new methods to apply, and there are endless questions we can answer. It is an exciting and engaging world to be part of."
Make data dance to the rhythm of business challenges through team spirit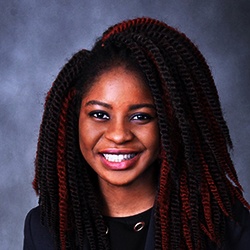 Temiloluwa Odesanya
Business Intelligence Consultant, Bell
"My experience from travelling across several parts of Africa revealed that governments implemented citizen-centric services through traditional methods. Consequently, majority of Africans among who I belong, faced infrastructural, security and health challenges due to poor governance. All I felt in the face of these challenges was the need for a better Africa and better process. Thus, I started out with implementing process re-engineering software solutions to organizational problems to improve processes after my bachelor's degree in Information Systems. Thereafter, I wrote a winning scholarship essay about the use of technology to improve export processes between the Nigerian government and agricultural industry. This essay won for me, a scholarship to attend Nuvola Rosa (2015) Conference in Italy where I discovered the endless possibilities of big data and technology. The aftermath of this conference was my motivation and thus application to study Analytics in a graduate school in Canada. My dream is to acquire analytical expertise which could be used to improve processes and policies in government agencies, non-profit organizations and the private sector. Currently, I have had hands-on experience in the retail, manufacturing, telecoms, banking and consulting industry. I have a robust passion for making data dance to the rhythm of business challenges through team spirit. My vision is to implement analytical and technological solutions that would create a "government internet of things" using analytics and technology to reinvent public service delivery, deliver better public services and to empower young women in analytics field. I have found an exciting passion, while I continue to strive at learning through mentoring and team collaboration in the field."
The only way to truly satisfy your curiosity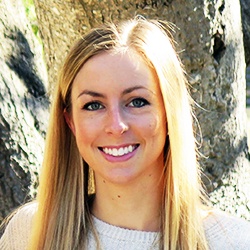 Natalie Vais
Product Manager, Google
"I love working in data. It can tell a powerful story—whether that's about your business, society, or the world. Companies that learn how to leverage their data have such a clear business advantage. It's also the only way to truly satisfy your curiosity (of which I have a lot!)."
・ ・ ・
Government and Education
Help people tackle problems even those outside the mainstream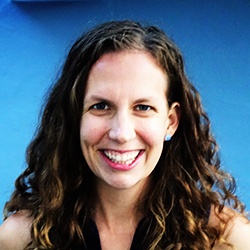 Rachel Thomas, PhD
Founding Researcher, fast.ai and Assistant Professor, USF
"Working with data can be frustrating and finicky, but the things that data lets you do are awesome: sorting two tons of legos, understanding Pakistani languages, reducing the suicide rate of Indian farmers, or improving the health of goat udders (these are all applications that our students at fast.ai have worked on)! Data is becoming more pervasive in all fields, and through our free courses at fast.ai (as well as our diversity and international fellowships), I want to help people tackle problems they care about, no matter how obscure or outside the mainstream."
Working with data is like being on a treasure hunt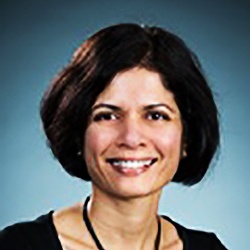 Hina Arora
Clinical Assistant Professor, Business Analytics Faculty, Arizona State University - W.P. Carey School of Business
"Why do I love working with data? It is like being on a treasure hunt! You arm yourself with the data, the models, the tools, the domain expertise, and a sense of adventure, and go looking for nuggets of information. There are bound to be missteps and dead-ends along the way, but these challenges on the path to discovery only enhance your understanding, and improve your chances for a bigger payout."
Untap the potential hidden in data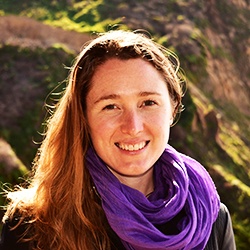 June Andrews
Principal Data Scientist for Industrial Internet of Things, UC Berkeley School of Information
"I am drawn to working on applications where the solutions are not apparent but would be extraordinarily appreciated if available. I've been busy. To date, my work is used in production for airplane engine maintenance at GE, content understanding at Pinterest, professional network building at LinkedIn and search at Yelp. My research has also touched social influence in voting, diabetes prevention, and robotic brain surgery. That's an absurdly diverse and long list of applications. Just 50 years ago it would have been near impossible for someone like me to contribute to that many applications in a single lifetime. Yet I have, and I'm not done yet. What makes my work feasible is leveraging a strong foundation in applied mathematics and computer science to unlock the potential of data. There's quite a bit of potential hidden in data still to be untapped. My personal vision for what data can be in its full potential, is a platform from which all fields of study will be able to build knowledge and applications, previously without solutions, but whose results will be extraordinarily appreciated. That seems like something worth working on."
Convert unorganized numbers into beautiful charts and graphs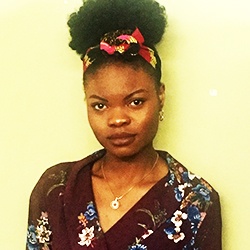 Aije Egwaikhide
Performance Management Analyst - Innovation Hub, St. Lawrence College
"I have always been fascinated with numbers. I felt there was so much I could do with numbers, but I did not know how to. My interest in numbers led me to study Economics and Statistics. Still curious and passionate about numbers, I found out about Predictive Analytics. I discovered how powerful numbers are; how I could use numbers to give useful recommendations and make a positive impact in society. Also, I love data because it does not matter how unorganized numbers might look, they can be converted into beautiful charts and graphs."
Once you can work with data, you can work in just about any industry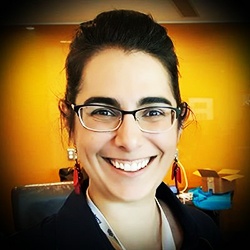 Renee Teate
Data Scientist, HelioCampus
"What I enjoy most about working with data is the discovery of new insights that would have been impossible to uncover without the right data and analysis. I started working with data right out of college as a relational database designer, became a SQL data analyst and report developer, and now work as a data scientist. That path has allowed me to work as a "data generalist", doing projects that involve all aspects of the "data science pipeline", including communication with customers, and that variety is another reason I like this role. Plus, once you learn how to work with data, you can work in just about any industry!"
Every day is a new adventure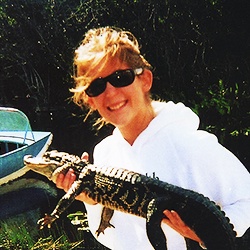 Colleen Farrelly
Data Scientist, Kaplan
"During college, I loved every branch of biological, social, and physical science and had a hard time choosing a field of study. I loved the challenge of science and the immediate applicability of results to help other people. When I was in an MD/PhD program, I realized that mathematics provided a common language within research, and I quickly made the switch from medicine to mathematics, particularly focusing on topology, machine learning, and psychometrics. Data allows me to apply the very theoretical math that interests me to problems across a variety of disciplines—genomics, marketing, sociology, psychometrics, epidemiology, defense... Every day is a new adventure, and I've had the privilege of working in a variety of fields with a lot of different people.

I think one of my favorite professors in graduate school said it best. As statisticians/data scientists, we are the gatekeepers to quality control of products and rigorous research practices. And, these days, there are a lot of gates to keep!"
・ ・ ・
B2B Technology
Data powers today's information economy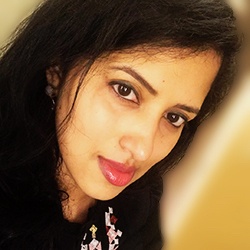 Vidhya Srinivasan
General Manager at Amazon Redshift
"I've worked in data my entire career, first running IBM's mainframe databases (DB2 and IMS) and then running Amazon Redshift, AWS's cloud data warehouse, for the past 5 years since it launched.
Why data? Just as coal and oil powered the industrial revolution, data powers today's information economy. Data drives better decisions and better decisions drives less waste. With better data, you can understand your customers and strive to delight them.
In 2006, the top five companies by market cap were Exxon, GE, Total, Microsoft, and Citigroup. By 2016, they were Apple, Alphabet, Microsoft, Amazon, and Facebook - all consumer tech companies whose success is based upon their ability to collect and leverage data. Data matters."
It's about what the data can help you accomplish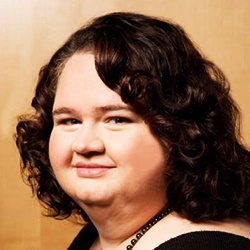 Diane Reynolds
Chief Data Scientist, Client Insights, IBM Watson FSS
"Why do I work in data? I actually wouldn't say that I work in data. From my perspective, my job is to solve critical business problems. The tools I have include data, analytics, sheer computing power, communications skills, and an in-depth understanding of the business. I've always been interested in analytics, even way back in high school, mathematics fascinated me. At first, I really liked its certainty and precision. Over time, I've learned that those aren't really the power of mathematics. It's more about a logical, systematic, traceable path from A to B. This allows you to support opinions, clarify your own thinking, and gain confidence in your position. I talk to many young data scientists, and many of them have fallen in love with data analysis, just the way I did with math. The key to developing a longer career in the data science space is to realize that it's not about the data... it's all about what the data can help you to accomplish."
The sweet moment when after days of work, a new truth is suddenly born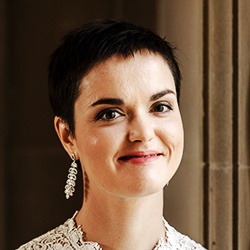 Irina Malkova
Director, Product Data Science, Salesforce
"I work in data for that sweet moment when after days of thinking, mining, ETL-ing, modeling, and more thinking a new truth is suddenly born! I chose enterprise data for the extra intellectual challenge of it. For example, how do you cluster end users by behavior if each of them customized the product in a unique way?"
Data is knowlege, and knowlege is power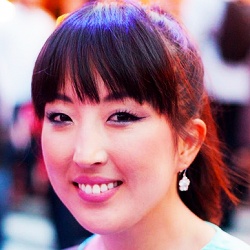 Sunny Cha
VP of Marketing, Tenjin
"I work in data for the following reasons:
Data doesn't lie so you can make well-informed decisions without guessing. The data always "is what it is" (even though it can be abused if it's in the wrong hands).
Following up on my first point, data is objective.
If you have data, you have the knowledge and let's be honest, knowledge is power."
A front row seat to groundbreaking work in data science and artificial intelligence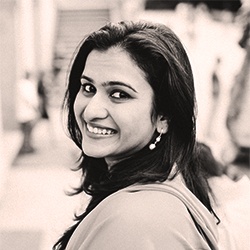 Smrati Gupta, PhD
Principal Data Scientist, CA Technologies
"Data is the single thread today that connects software, machines, systems, businesses, customers and even the human emotions. Working with data science gives me the power to understand the end-to-end challenges in complex ecosystems and create solutions that actually make a difference. It is like working on science that is evolving every single day giving me opportunity to be a student and master at the same time. What attracts me to this field is how my work as a scientist/researcher is no more condensed to creating experiments and finding results but also heavily involves being receptive to business and translating mathematics to simple language that resonates with every stakeholder. Having worked in academia for 8 years and as a research scientist in industry, I have experienced and worked with solid translation of theoretical work into working products. As a data scientist, I get to keep 360 degree view into both deep technical details and dynamic business requirements. I love being at this position: in the front row to witness the new grounds we break in data science and artificial intelligence every day."
Create a greater and more meaningful impact for mankind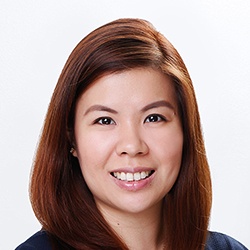 Janet Uy
Lead Data Scientist, Big Data & Advanced Analytics Consulting (ASEAN), Oracle
"In today's digital age, data has become integrated into our everyday lives. It has started to influence how we work, exercise, listen to music, shop, and even interact with each other. Working with data and making use of the advancements in data science tools allow me to carry the deeper vision of complementing or augmenting human weaknesses to create a greater and more meaningful impact, not just in business, but most importantly in the society and for mankind."
Show the success of my team and true results of our work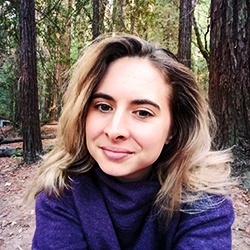 Natasha Selvey
Demand Generation and Marketing Operations Manager, CoreOS, Inc.
"I love working in data because I am able to show the success of my team. Marketing results are traditionally more emotion-driven, but I don't want emotions and presumptions to be the basis of my teams' successes. With data I can show the true results of our work, be transparent throughout the organization, and make sure our actions always drive towards our business goals."
Data helps me understand the world better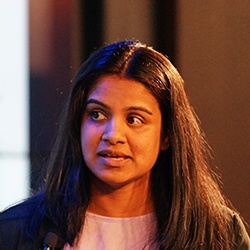 Shivani Rao
Sr. Applied Researcher, LinkedIn
"I like working with data because it helps me understand the world better. I have worked with all kinds of data: textual, images, videos; across various domains like content-security, software engineering, image understanding and lately online education. Working with data delivers insights, which uncovers new opportunities that have the potential for significant impact within that domain."
Share "a-ha" moments to be a data champion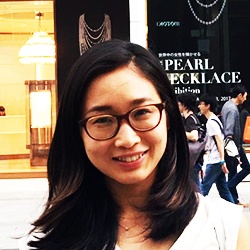 Marie Watanabe
Business Systems Analyst, Workday
"I love getting "a-ha" moments when data puts light on something that wasn't obvious before. I see this in pretty much every function, team, and company. It gives me so much satisfaction and joy knowing that people click with data that I presented. Anyone can be a data champion once you share that "a-ha" moment. I also like solving complex problems visually and data helps me do just that."
Build and design systems that learn and react to maximize value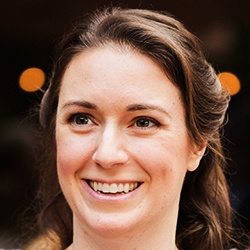 Corinne Powers, PhD
Machine Learning Scientist, Leanplum
"I work in data because I enjoy building systems that are designed to learn and react in order to maximize value. My general approach to the learning problem is to un-mix confounded effects (e.g., who, what, when, where, why) in order to characterize reoccuring behavior (e.g., highly-engaged, high-risk, high-value); then I design a controller (e.g., a convex control problem) to leverage what can be learned. At Qadium Inc. (a network security company) we learned background noise from data and raised the alarm when behavior deviated from normal to a sufficiently high degree, where the 'sufficient' threshold was chosen to optimally trade off missed detections for false alarms. At Leanplum (a mobile marketing company) we infer how people will likely react to in-app messages, and automate the process of choosing marketing strategies that optimize campaign goals."
・ ・ ・
Consulting and Professional Services
It's great fun!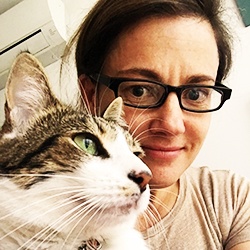 Felicity Splatt
Data Scientist / Manager, Insight Analytics and Big Data, PwC Australia
"I work in data because it's great fun! I get to see some of the amazing data that is generated in the world, and understand how businesses and humans work by applying some pretty cool techniques to this data. Another passion is mentoring and encouraging young women to find their place in traditionally male-dominated fields."
Protect workers from injuries, illnesses, and death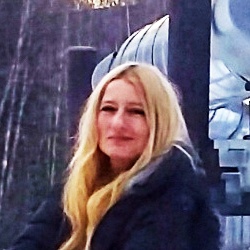 Tiffani Fordyce
Senior Managing Scientist, Exponent
"I work with data to try to protect workers from injuries, illnesses, and death. As a research scientist specializing in occupational health and safety studies, I use data to examine trends and risk factors for workplace injuries and mortality. There are many uses for occupational health and safety data. Data can be used to guide the design and creation of interventions, safety programs, and measures to reduce the risk of worker injury and/or death. Companies can use occupational health and safety data for benchmarking against other companies and against their own past performance and for the evaluation of existing safety programs. Surveillance data may be used to indicate areas of emerging concern, allowing prompt interventions to occur to prevent future harm."
Derive meaning where none seems to exist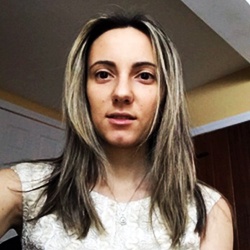 Kate Strachnyi
Advisory Ventures Program Manager, Deloitte
"I have always been compelled by a desire to derive meaning where otherwise none seemed to exist and quickly learned that the simple task of building a visual representation (using Tableau) was an effective way to establish order from the chaotic frenzy of complex data fields. I enjoy being able to manipulate complicated data structures across various data sources; in order to have the data tell a story."
Continually learn, investigate different perspectives and question facts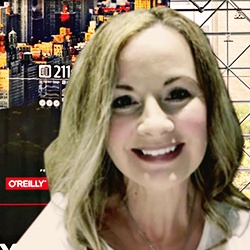 Jen Underwood
Founder, Impact Analytix and Columnist, Information Week
"I fell in love with data in college statistics and market research classes. Despite facing significant challenges as a woman in technology, I still love what I do after 22 years in this space. I have always enjoyed helping people solve problems. I am unduly skeptical, curious and inquisitive. I thrive on continually learning, investigating different perspectives of an issue and questioning facts. By speaking up on issues that were important to me, my sometimes too-honest voice has influenced positive changes from some of the largest companies in the world. It also has taken my career in an unplanned direction and continues to surprise me. Today I work with numerous leading vendors in the analytics and data science industry testing products, providing design feedback, performing market research, monitoring industry trends and writing creative technical educational content."
Resolve problems for innovators worldwide in the field of patents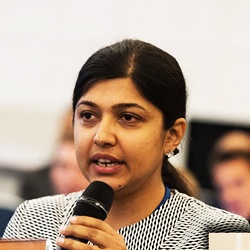 Komal Sharma Talwar
Founder, TT Consultants and Co-founder, XLPAT LABS
"I work in data because I believe that aggregation and analysis of data by applying the latest AI technologies in patents can resolve a lot of problems for innovators worldwide in the field of patents. Conventional patent search and analysis is highly manual, time consuming, expensive as data is scattered across multiple databases and unstructured."
S
earching to see how and where a data point came to be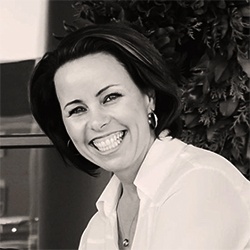 Michelle Aultman
Owner and CTO, VetDS
"As a former active duty military member assigned to The Special Operations Command, I realized very early in my career that data does not hold a ton of value unless it can be quickly processed, exploited by expertly trained analysts and disseminated to the right person who needs the exact information to make the best decision in the quickest manner. This is true for nearly every industry that exists, but especially for those industries whose mission it is to save human lives or have high risk jobs. On a global scale, significant investments in IoT, including drones, HD sensors and all of the infrastructure required to ingest, store and index all the collected unstructured video data sets. Global IT companies have shifted strategies accordingly. There is a reason for this investment. We have evolved into a digitally connected world and a socially connected society where we crave and require access to video. We want to see things or situations with our own eyes so that we can apply our own context and judgment to an event or predict patterns to better understand why things are happening. We are no longer just searching for just a data point, we are searching to "see for ourselves" how and where a data point came to be. In a world screaming fake news, we have become a society almost demanding to see video so we can decide for ourselves what we believe to be true."
Replace intuition with analysis and experimentation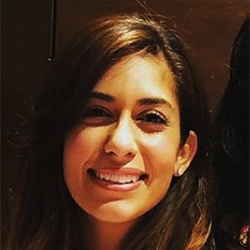 Sarah Nooravi
Sr. Data Scientist, Operam
"There is a certain level of excitement that comes from working to creatively solve a broad range of business problems by leveraging very rich and diverse datasets. The idea of replacing human intuition, that has driven decision making for a long time, with data analysis and experimentation is an attractive idea that gets me excited to go to work every day. Having that type of impact and knowing that, to do that successfully, requires creativity, technical skills, leadership and proper communication makes it a holistically appealing job to have."
Life is data; data is life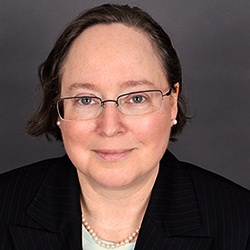 Renee Colwell
Senior Data Governance Consultant, Arrayo
"I was born to work with data, and I find a very deep satisfaction in doing so. My motto is "life is data; data is life". If you have good data and you know what to do with it – that's real power, whether in business, politics, or your personal life. How do you know if an idea or a policy is working? Ask the data—sometimes, the answer isn't what you expected. One of the most fascinating articles I've read recently was the future of prediction analytics and the "wisdom of crowds"

Of course, it's important to have high quality, transparent data that you can trust. That sounds easy, but it's actually very complicated. I like to use the analogy of water quality: we don't usually think about what it takes to have high quality, transparent water running through the pipes that come out in our kitchen, but there's a lot of monitoring and prevention that's going on behind the scenes.

Lately, I've been thinking about the blockers that prevent people from unlocking knowledge from their data. Some of these are easy to fix; others aren't. I'm trying to make sure I understand the short term, medium term, and longer vision in each project."
With better tools comes better and faster understanding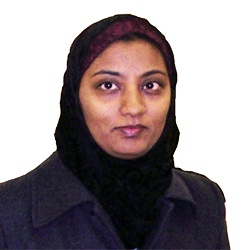 Nazima Khan
Data Science Consultant, EliteNext
"Concepts of data science were not different or unique, but they truly made sense to me. The numerous amount of data that is generated daily by social media, IoT and mobile devices had grown from simply numbers into interpretable information, labeled "Big Data". This data needed to be stored and analyzed at some point. It's remarkable how experts are keeping up with evolution of Big Data and are organizing in stages. It began with local storage, then removable storage, now finally followed by network and online storage that is associated with the fascinating cloud technology now.

I learned that storage is no more an issue, thanks to the vast amounts that we can now keep. However, the matter lies not within storing this data, but using it in ways that prove to be beneficial and useful. These large volumes of data need to be cleaned, crunched, and be thoroughly analyzed to yield fruitful results. Discovering each step of this process revealed many things to me." Click for more from Nazima.
Working with data keeps me curious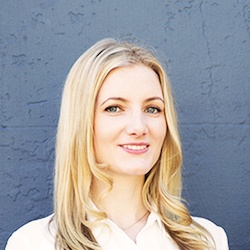 Jessica Hill
Co-Founder, DataMinds
"I didn't plan to work in data, I fell into it. I studied pure math at university with no particular career path in mind. I just love numbers. I started out as a marketing analyst and my career grew from there.

Working with data keeps me curious - there's always something new to find, a new problem to solve.

It's exciting to see the direct impact I can have on a business by working with their data to find hidden insights that drive positive change."


You never know what you will find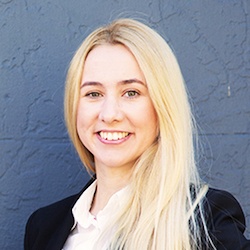 Karina Samsonova
Co-Founder, DataMinds
"I came to data science from finance. I was always into numbers from my childhood, but I didn't know where to go, so I chose to study Economics. From there I went into accounting, and I found that the more senior you become, the less hands-on you are with the numbers.
I work with data because I love it. You never know what you will find. I love to tell a story with the numbers."
・ ・ ・
Honorable Mentions
Women doing amazing things in data are not limited to the group above. The following were also highlighted by their peers as incredible managers, collaborators, mentors and more: Lisa Green, Hilary Mason, Sadie St. Lawrence, Jana Eggers, Kira Wetzel, Renee DiResta, Latanya Sweeney, Julia Silge, Cathy Huyghe, Sonya Reynolds, Jenny Hadden, Pi-Chuan Chang, Vivian Zhang, Shuan Huang, Azadeh Moghtaderi, Stephanie Langenfield McReynolds, Katharine Nevins, Shivon Zilis, Stephanie Yuen, Sharon Chen, Carol Yan, Audrey Egan, Maria Milosavljevic, Tania Churchill, Cole Nussbaumer Knaflic, Lifang Gu, Eugenie Chen, Michelle Zhang, Sruthi Shyamsunder, Adi Raz, Linda Navarro, Gilda Afshar, Jeannette Simino, Jill Grammer-Williams, Jen Lasser, Ashley McCrillis, Min Zhang, Meta S. Brown, Stacy Gray, Jen Stirrup, and Ling Cheng.
While International Women's Day may be but one day, there's many ways to stay involved and continue to promote an inclusive world. For example, LeadWith, a non-profit organization focused on empowering and promoting women in tech, is hosting a LeadWith Babies tech talk on March 18 at Google's campus in Tel Aviv, with Panoply as the networking sponsor. This series creates an inclusive environment for women (and their children) to continue developing their professional skills and network while out on leave. Click for more information (in Hebrew) or to register.
Is there anyone you think deserves to be on this list? Let us know on Facebook, LinkedIn and Twitter.
Click to send out a tweet to nominate someone below: