Chartio recently announced that they've joined Atlassian, the company behind robust tools like JIRA and Confluence.
That's great news for Chartio, but what does it mean for Chartio users? The short answer is that Chartio is now on maintenance mode until it sunsets on March 1, 2022. At that point, it'll power data visualization within Atlassian but won't be usable as a BI tool.
As you have less than a year to migrate away from Chartio, the race is on to find the perfect BI tool for your team. To speed up your search, we've created a shortlist of alternatives with details that can help you figure out which one makes sense for your business.
1. Trevor.io
Trevor.io is an excellent tool for teams looking to get more out of their data. Trevor users can quickly build dashboards, perform lookups, and get ad hoc answers to their questions out-of-the-box.
Trevor's intuitive yet straightforward query builder was built for non-SQL users but can accommodate SQL ninjas as well. As Trevor concentrates on how your tables are connected and understands their relationships, users can focus on diving deep into their data to derive valuable and hidden insights.
If your team is adamant about using their spreadsheets (both Excel and Google Sheets), Trevor enables real-time usage and automatically updates every hour. Trevor also has a useful Slack integration to keep the conversation going, a handy one-click integration with Panoply, and seriously responsive customer support you won't get with some of the bigger BI tools.
Trevor.io pricing: starts at $250.00 per month, and a free 14-day trial is available. Trevor.io is offering 2 months free to current Chartio customers.
2. Looker

Looker is an excellent browser-based tool for large enterprises with huge budgets. All you'll need is a data warehouse (like Panoply) to access deep insights. It has a strong data modeling layer via LookML (a SQL derivative), so you'll have to learn to code to use it, a process that can be daunting for less technical users.
For tech-savvy users, there are plenty of options. For example, you can integrate your Git repository with Looker to extend and enhance SQL-based analysis and more. So, if you have the necessary resources and expertise, Looker might be the right tool for you.
Looker pricing: is customized and based on the number of users and the scale of your deployment.
3. Power BI

Power BI is Microsoft's offering to prepare, monitor, and visualize data. You can also use it to share dashboards and distribute reports, but to create rich interactive visualizations you'll need storage.
Power BI is a standard BI solution that has something for both data scientists and everyday business users. Power BI comes with a desktop and web interface and has a mobile app that lets you view and interact with data on just about any device. You can also embed striking interactive visuals and reports with Power BI Embedded.
Power BI is user-friendly, and its simple drag-and-drop interface is popular among MS Excel users. Power BI also comes with a library of pre-built connectors, but it's nowhere near as extensive as that offered by the competition.
If you're already a fan of the Microsoft stack, this is probably the right solution for you.
Power BI pricing: starts at $9.99 per user per month (and a free basic version is available).
4. Mode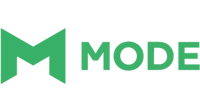 Mode is a BI solution that lets you build dashboards and perform advanced data analyses. It's a powerful tool for hardcore analysts who can hang with advanced SQL. But business users can also benefit from its user-friendly data visualization features. You can perform interactive visualizations and share live dashboards and reports with your product or application.
If you want to engage in complex data analytics, you can use machine learning in this interactive BI application. Users can also embed a cloud-based SQL workbench and integrate with Python or R Notebooks.
Mode has three pricing models: Studio, Business, and Enterprise. The Studio version offers limited features but is free (forever) for up to five users. The Business model comes with a 14-day free trial, and the Enterprise plan requires a minimum of 50 users.
Mode pricing: available upon request, and a free option/trial is available.
5. Tableau

Tableau is probably the most robust data visualization tool on the list. Whether you're highly technical or a business user, this data analysis and visualization application helps just about everyone across all departments to make intelligent data-driven decisions in real-time.
Tableau is user-friendly and makes it easy to leverage its drag-and-drop feature and low-code interface to produce stunning visualizations and interactive dashboards. It also makes it easy to share your reports effortlessly.
Tableau is also the only solution on this list that provides enhanced mobile experiences, which are essential to those out on the field. To date, we have yet to see another data analytics and visualization tool that offers anything close to it, but it comes at a cost.
Tableau pricing: starts at $35-$70 per user per month (and a 14-day free trial is available).
6. Metabase
Metabase is a cloud-based and on-premise open-source platform. So, you know what that means: it's free! It's a popular tool among data folks who use it for data management, query building, bug tracking, KPI monitoring, record filtering, and, of course, data visualization.
Metabase comes with a unified interface that data teams can use to ask questions and derive valuable insights. You can also set up alerts for the target audience, schedule reports, and improve your team's data literacy levels.
While it's beloved by the Metabase faithful, users also say that it doesn't have the same level of support as other tools and that the dashboard options are limited.
Metabase pricing: free and open source.
7. Looker Studio

Looker Studio is Google's business intelligence offering. The key difference here is that Google Data Studio is entirely web-based and totally free! Like Chartio, Looker Studio uses data visualization and reporting to help businesses make better data-driven decisions, but if you need support, there's not a whole lot of it.
While Looker Studio connects effortlessly to other Google products like Ad Words, Sheets, Google Analytics, and more, users complain that it's not as feature-rich as other BI options on the market.
Google Data Studio pricing: free.
8. Count.co

Count is a first notebook-centric BI platform that makes it easy for teams to collaborate on data.
Count works with both standard SQL and has a drag-and-drop interface, making it a good choice for teams that need to support users with different skill sets.
But where Count really shines is in its use of "data stories"—a mix of charts, text, and other info that contextualizes and adds clarity that other dashboarding tools don't.
Count pricing: Free for individual users. The team plan is $20 per user per month with a two-week free trial.
9. Cumul.io
Cumul.io (pronounced 'KEW-mew-lie-oh') is an embedded analytics tool that enables you to add dashboards to any web platform or application with <100 lines of code.
Cumul.io offers both SQL and a drag-and-drop interface, making it an easy way for users across teams to create client-facing reports. It connects to a variety of data sources, including curated third-party data sets you can use to enrich users' experience.
Pricing: 10-day free trial + pricing to suit your company's size.
10. Panintelligence

Panintelligence is an embedded analytics app with self-service predictive analytics and standard BI functionality (aka, dashboards and reporting).
Panintelligence connects to any data warehouse and is cloud native, so it's easy to give clients access to mission-critical data without moving or replicating it. Panintelligence also has sophisticated triggers that create notifications to keep you informed as data changes.
Pricing: $250-$650/month in the development stage and $1500/month in production.
Powering your BI with Panoply
Data visualization is a vital part of data and analytics. Well visualized data can help users make smart data-driven decisions quickly—and that's why it's so important to choose the right tool if you're moving off Chartio.
But there's another wrinkle when it comes to BI: getting data into the tool. While many BI tools offer native connections to your data, that kind of rudimentary setup just isn't sustainable.
The problem isn't that connecting your data sources directly to a BI tool creates laggy queries (though it does). And the problem isn't that trying to combine multiple data sets for analysis is a headache (though it is). The real problem is that connecting data directly to a BI tool undermines your ability to create a single source of truth for your company.
That's where a platform like Panoply comes in. We make it easy to connect all your business data, store it in a single centralized location, and build in business logic that ensures everyone in your company is working against the same data and that their metrics are calculated consistently, no matter which visualization they use.