Data is king; the most successful businesses tend to collect and generate tons of data. But, when you consider all the different variables, it can quickly become a challenge to analyze oceans of data and rapidly derive valuable insights.
That's where embedded analytics tools come in handy.
What should you look for in a good embedded analytics tool?
Embedded analytics tools integrate with other software applications to provide data and visualizations to users. Often, those embedded tools are white labeled, so customers may not even be aware that the analysis they're doing or the dashboards they use aren't powered by the software itself.
Embedded analytics tools should be easily scalable (both vertically and horizontally) and seamlessly integrate ETL tools and data warehouses (like Panoply).
They must also ensure high availability. After all, it's a challenge to collect complex structured and unstructured data from disparate sources, clean it, convert it, and extract actionable insights.
Most embedded analytics platforms have something for both business users and data engineers. However, when it comes to usability, the level of intuitiveness definitely varies and is something you should consider.
Since we live in an amazing world with tons of solutions for every need, picking the best embedded analytics tool for your business can be a challenge.
At Panoply, we're mad about data and the embedded analytics tools that make smart decision-making possible.
To make the challenge a little easier for you, we did some of the heavy lifting by researching various embedded analytics tools out there and putting together a list of the best ones below (in no particular order).
1. Looker

Looker focuses on letting users slice, dice, and explore their data in any way they please. You can leverage its flexible simulation layer to define control and use its filtration and trenching abilities to dive deep into the data and get results in real-time.
Advanced users can get more out of Looker by using its built-in data modeling language (LookML) and git integration to extend and enhance SQL-based analysis.
Less technically inclined team members will also have a lot to work with using dashboards and visualizations. Looker's drag-and-drop functionality and collaboration features enhance user experiences, and pre-built visualization formats (like heatmaps) help accelerate the process and generate real-time snapshots from the data.
Data teams can also use Looker's RESTful API to highlight and share key findings via email and more quickly. You can also quickly get data from Microsoft Excel to Looker using a simple Panoply integration.
However, Looker isn't for everyone since all of the features listed above make it a costly option.
TL;DR: Looker is an excellent embedded analytics platform for data teams with a mix of skill levels that want to engage in complex analytics. However, the cost can make it out of reach for some small businesses.
Looker pricing: is customized to your specific requirements and usually falls within the $3,000–$5,000 range per month for ten users.
2. Reveal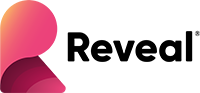 Reveal comes as an embedded analytics platform and a standalone BI solution. It helps businesses make smarter decisions by allowing just about anyone to create, view, and share rich data visualizations and meaningful dashboards.
Because it was built with a focus on end-user experiences, Reveal allows you to efficiently run machine learning and predictive analysis models with just a few clicks. If you don't have data experts in your organization, this self-service embedded analytics software may be right for you.
Developers can also leverage this intelligent platform to concentrate on an app's core value, transform mobile app experiences, and accelerate time to market.
One of the drawbacks is that Reveal is known to be buggy, and users report that options in terms of output formats are pretty limited.
TL;DR: Reveal is straightforward in terms of usability and is a handy tool for improving mobile applications and web portals. Stability and customizability may be concerns, but the pros might outweigh the cons for some businesses as it's probably the cheapest option out there.
Reveal pricing: starts at $9.99 per month, and a 14-day free trial is available.
3. MicroStrategy

MicroStrategy is an embedded analytics tool that combines visual information discovery and self-service analytical data processing. Popular among brands like AIG, Campbells', and eBay, MicroStrategy boasts a simple and straightforward interface, and its functions respond effortlessly to user commands.
Different levels of complexity can define its analysis capabilities. For example, you can manage large datasets as often as needed and set aside smaller data sets for minor investigations.
Native drivers and gateways that connect to any enterprise resources like cloud applications, databases, and MDM systems are available out-of-the-box.
MicroStrategy also provides physical access control systems and enterprise directories. The integrated cloud option also integrates with various chatbots, smart assistants like Alexa, and CRM portals.
MicroStrategy users report that saving templates and updating them later without recreating them from scratch makes the widgets more meaningful but that its memory processing capacity is limited, placing a significant burden on the data server and impacting data shortcuts.
TL;DR: MicroStrategy is so easy to use; just about anyone can quickly start working with enterprise data. However, it's known to fall short when it comes to processing capacity and technical support.
MicroStrategy pricing: available upon request, and a free trial is available.
4. Cumul.io

Cumul.io is a web-based embedded analytics platform that lets users quickly add interactive white-label dashboards to any web application or SaaS platform.
You won't have to waste your time building dashboard components from scratch. Instead, you can concentrate on using Cumul.io's simple drag-and-drop feature to create advanced personalized dashboards.
You can white-label and integrate these embedded dashboards into existing applications, web pages, and portals simply by copying and pasting a short code snippet (with less than 100 lines of code).
Cumul.io is a good option for companies looking to accelerate the development of analytics features. If you're still working with Excel, Cumul.io also lets you generate reports in real-time.
One drawback of Cumul.io, reported by users, is that its widgets are limited in options.
TL;DR: Cumul.io is an excellent embedded analytics platform that you can quickly add to your existing applications or customer portals. As this solution is pretty straightforward, you won't need a team of coders and data engineers to use it. However, you won't be able to engage in strategic planning or predictive analytics.
Cumul.io pricing: about $995 to $2800, and a 10-day free trial is available.
5. Informer

Informer is similar to Cumul.io but with additional features like strategic planning, trend or problem indicators, and predictive analytics. Its capability to seamlessly connect to various databases makes reporting feel effortless.
The ability to pull data from disparate sources simultaneously through a web interface makes it stand out. It also allows users to access the power of reporting without calling someone in IT for help.
Informer's extensible BI architecture, collaborative environment, intuitive interface, and performance make it perfect for large enterprises that strive to extend data analytics capabilities. Data teams with a mix of skills can either take the point-and-click approach or leverage the flexibility of SQL and JavaScript.
TL;DR: Informer is ideal for large enterprises with a mix of data skills. While you'll have to be a coder to make the most of its advanced functions, business users can get a lot of work done through Informer's web interface. There's also the option of email support whenever necessary.
Informer pricing: available upon request.
6. Power BI Embedded

Microsoft's Power BI Embedded is an embedded analytics platform that makes visualizing and sharing data feel seamless.
For example, you can easily embed Power BI insights into a website or application before sharing, making it a great white-label BI tool for internal and external platforms.
This approach helps collect and unify data from hundreds of sources to generate interactive dashboards and reports with actionable insights all under your own branding.
Although Power BI was developed with data scientists in mind, anyone wanting to make more intelligent business decisions can do it easily with its no-code, drag-and-drop interface.
If you're already comfortable with the Microsoft stack, it'll be easy to get up and running in no time. However, if you're working with the Google stack, you'll have to look elsewhere as Microsoft Power BI doesn't connect to the competition.
Users also report issues with external sharing.
TL;DR: Power BI is an affordable and user-friendly enterprise analytics solution. It's good at pulling data from hundreds of sources, unifying it, and analyzing it for meaningful insights. However, if you're working with Google, it's best to stay away from Power BI as this is probably one of very few embedded analytics tools that don't connect to the tech giant's products.
Power BI embedded pricing: follows a node-based pricing model.
7. Panintelligence
Panintelligence, or pi, combines powerful predictive analytics, prompt reporting, and business intelligence in self-service dashboards to get immediate and straightforward results. You can also quickly white label this embedded analytics software into any product and hook it up to ETL tools and data warehouses (including BigQuery).
What's excellent about pi is that the company will help you set up and embed it into your application in a matter of days. If you're working in a small development team, this approach can significantly accelerate your time to market.
It's also intelligent enough to perform most manual tasks independently. However, users report limited connections to data sources on the web.
TL;DR: Panintelligence powers white-label BI solutions and accelerates your time to market. However, it's best to explore all available data sources before committing.
Panintelligence pricing: developer licenses start at $250 per month. The "Pilot License" is $650 per month, while the "Deploy Live" option starts at $1500 per month. A 24-hour free trial is also available.
8. GoodData
GoodData is a BI and embedded analytics platform that can support the entire data analytics pipeline from ETL to integration to reporting and visualization. You can create, share, and automate the management of analytics at scale.
This tool also makes it easy for users to share insights with customers and external partners. It's ideal for businesses working with a large influx of data from multiple sources for complex analysis and reporting.
Non-technical users can quickly create personalized dashboards and reports using its drag-and-drop function. More tech-savvy colleagues also have the option of taking a deep look into the data by leveraging its many visualization options.
Although GoodData is user-friendly, users report that you need expert help sometimes, especially when pulling data out of the platform and during the implementation phase. Report population is also slow, and it can take as long as half an hour to populate an accurate report.
TL;DR: GoodData is a user-friendly embedded analytics tool for business users and application developers who want to automate their analytics protocols at scale. However, users report that expert help is required from time to time to get the most out of this robust analytics solution.
GoodData pricing: starts at $20 per workspace/month, and a free version is also available.
9. Logi Analytics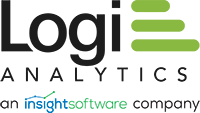 Logi Analytics was created for developers and product managers who want to build, deploy, and maintain smart mission-critical applications.
As it is purpose-built to follow the embedded model, you can quickly turn it into your own white-label BI solution. In this scenario, the analytics capabilities are seamlessly embedded into the application, but your team still maintains control to customize and maintain enhanced UX.
While Logi Analytics is known for its flexibility, it's not as shiny as Tableau.
The Logi platform can be used to build complete applications and websites and developers can also programmatically interact with data sources, dashboards, and visualizations.
All that being said, users report a decline in investment in the platform, and the product has become stagnant.
TL;DR: Logi Analytics helps developers build and deploy rapidly without sacrificing security or UX. However, as new updates and releases are few and far between, it might not be the best option for your long-term goals.
Logi Analytics pricing: available upon request, and a free trial is available.
10. Exago

Exago BI is an entirely web-based embedded analytics software built for software developers and SaaS providers. However, large enterprises and SMBs can also leverage it in their internal applications.
As it's 100% embedded, you won't need any plugins to get it up and running.
By integrating Exago BI with on-prem applications or web-based SaaS, non-technical users can also create dashboards and ad hoc reports on the fly for customer use.
Exago's strong permission structure helps you control precisely what other users can see. More techy team members can leverage a wide range of advanced features like user-defined formulas, geo-maps, and interactive data visualizations to get more out of this solution.
However, users report that dashboards take a long time to load, and general (and less techy) customers struggle to find their way around.
TL;DR: Exago BI is an excellent embedded analytics software for your customers to run in real-time. However, there is some latency, and non-techy users might find it a bit challenging.
Exago pricing: follows a flat-rate pricing model that's customized based on your unique requirements.
So, what's the best embedded analytics software for your business?
It's important to keep in mind that embedded analytics tools play an important role in both data analytics and application development.
The right tool for your project will depend on your goals, infrastructure, audience, and different data types.
At Panoply, we're all about the data. From ETL to data warehousing, we make more intelligent analytics accessible.
We can help simplify your next data project. Find out how by setting up a personalized demo or getting started for free.