What is data management?
Data management is a broad and ambiguous concept. The Global Data Management Community (DAMA International) defines it as "the development of architectures, policies, practices and procedures to manage the data lifecycle". But when people say "data management", what do they really mean? We suggest five possibilities:
Cloud data management - the process of integrating data from an organization's ecosystem of cloud applications. The main distinction of cloud data management is that all data storage, intake, and processing takes place in a cloud-based storage medium.
Master data management - a method for managing critical organizational data: customers, accounts and parties named in business transactions, in a standardized way that prevents redundancy across the organization.
Reference data management - defines permissible values that can be used by other data fields, such as postal codes, lists of countries, regions and cities, or product serial numbers. Reference data can be home-grown or externally provided.
ETL and data integration - loading data from data sources into a data warehouse, transforming, summarizing and aggregating them into a format suitable for high performance analysis.
Data analytics and visualization - processing selected data from big data sources and data warehouses, performing advanced data analytics, and allowing analysts and data scientists to slice, dice, and present visualizations and dashboards.
With today's massive quantities of data, high-quality tools are essential to achieving data management best practices. Organizations use data management tools from all five categories above, to manage and automate the data management process:
Below we cover several great tools from each of these categories, both to help you understand each category and to move closer to selecting the best data management tool for your needs.
Best Cloud Data Management tools
As storage and bandwidth have become cheaper, more and more off-premise solutions for data warehousing and management have become available. Companies with large amounts of data to store, sift through and analyze now routinely store and manage their data entirely in the cloud. This workflow has been made possible by the proliferation of cloud data management tools in the past 5-10 years. While the field has been led primarily by giants like Amazon and Google so far, many smaller companies now offer tools for customers with data needs of all sizes. See below for a list of potential options for cloud data management.
Panoply
Amazon Web Services
Google Cloud
Panoply offers a cloud-native automated data warehouse that makes it easy to integrate and manage all your organization's data. Key features:
Large selection of native data connectors allows for easy, one-click data ingestion
Automated data ingestion and preprocessing frees up IT resources
Intuitive management dashboard takes the guesswork out of data management
Automated scaling and maintenance of multinode databases for low-maintenance data warehousing
In-browser SQL editor for data analysis and querying
Connections to common data visualization and analysis suites such as Tableau, Looker, Chartio
Panoply price: $249/month
Amazon Web Services offers an ever-expanding set of tools that can be put together into an effective cloud data management stack. Key services include:
Amazon S3 for temporary and/or intermediate storage
Amazon Glacier for long-term backup and storage
AWS Glue for building data catalogs to categorize, search and query your data
Amazon Athena for SQL-based data analytics
Amazon Redshift for data warehousing
Amazon Quicksight for dashboard construction and data visualization
Each service is spun up and billed separately, so costs depend on the extent of utilization
AWS Price: variable, dependent on implementation
Like Amazon, Google's cloud platform offers a broad set of tools for cloud-based data management, as well as a workflow manager that can be used to tie the different components together. Key Google Cloud components:
BigQuery for tabular data storage
Cloud BigTable for NoSQL database-style storage
Cloud Pub/Sub and Cloud Data Transfer for data intake; Google Cloud can also connect with a variety of other data sources
BigQuery analytics for SQL-style queries
ML Engine for more advanced analyses using machine learning and AI
Data Studio for GUI-based analysis and dashboard construction
Cloud Datalab for code-based data science
Connections to common BI tools like Tableau, Looker, etc.
Google cloud price: variable, dependent on implementation
Best Master Data Management tools
1. Dell Boomi
Dell Boomi's Master Data Hub has the following key features:
Defines models via low-code, visual experience.
Deploys data models and identifies which source systems interact with them.
Onboards system records into a consolidated repository, automatically merges similar records.
Enables data stewarding - alerts teams to resolve duplicates and data entry issues.
Governs data with real-time bidirectional process flows across silos.
Dell Boomi Master Data Hub price: $100,000 - $300,000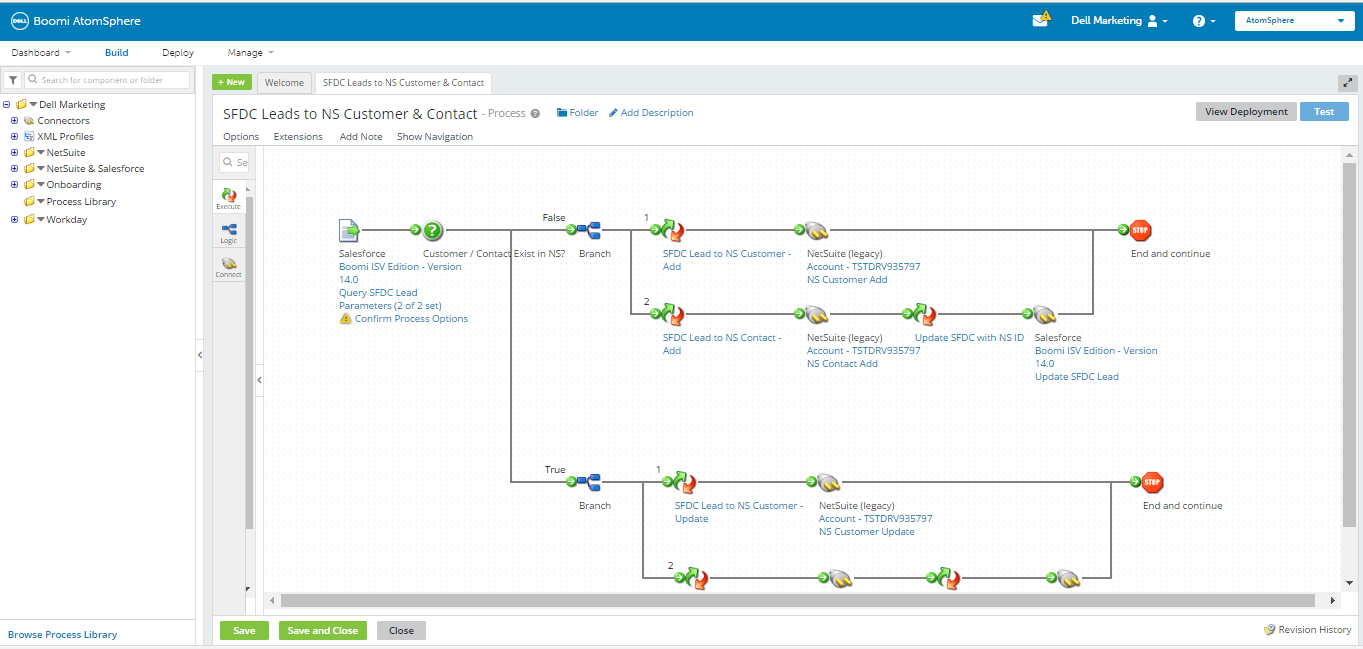 2. Profisee
Profisee's Master Data Management has the following key features:
Stewardship and governance - enables "data stewards" within the organization to manage master data with feedback from analytics.
Golden record management - standardizes, cleans and matches source data with no coding.
Event management - detects data changes, distributes events to subscribing systems.
Integrator - federates master data for global enterprises, with real time bi-directional integration.
Enterprise workflow - enforces business processes cross-organization, lets administrators manage data steward performance.
SDK - enables integration of custom applications.
Profisee price: $10.30/hour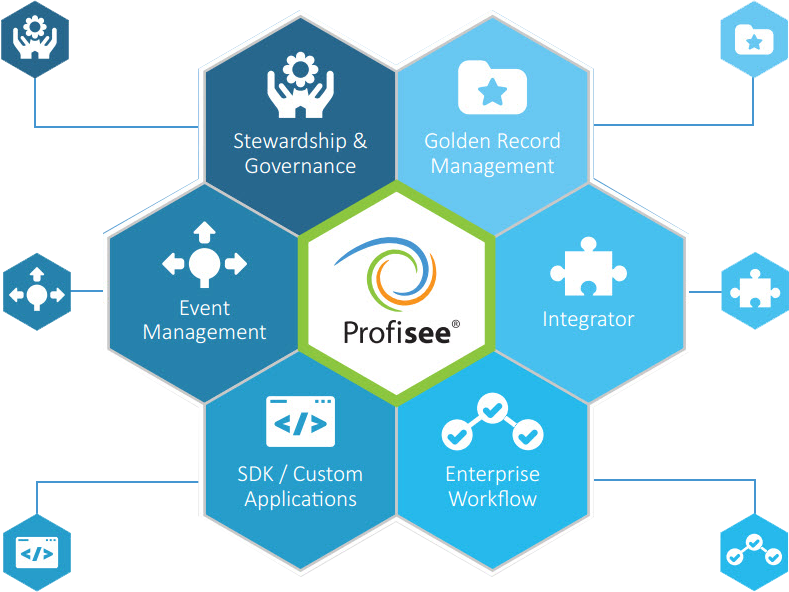 3. SAP NetWeaver
SAP NetWeaver MDM, a component of the NetWeaver development platform, has the following key features:
Automatically extracts master data from all major SAP applications.
Loads master data from other sources.
Integrates data using business content like repository structures, validation rules, inbound and outbound mappings.
Distributes master data to targets.
Enables programmatic data integration via APIs and web services.
SAP NetWeaver pricing: Available upon request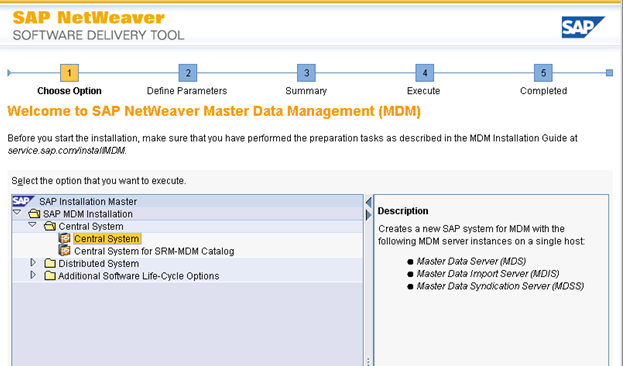 4. Semarchy xDM
Semarchy is a relative newcomer to the MDM scene, having been launched in 2011. Based out of France, it was founded by a team of former Sunopsis employees. xDM, their main MDM product, has the following features:
Non-Hadoop dependent.
Optimized for Oracle.
Updates and changes are tracked and propagated using metadata, allowing for iterative, "evolutionary" data management.
Features a step-by-step user interface that can be customized to specific business roles (i.e. analysts, operations, etc.).
Semarch xDM price: Available upon request
5. Tibco MDM
Tibco is a perennial placer in top MDM tool rankings. Key features include:
Flexibility and scalability for multidomain applications.
Independent, distributed master data layer.
Customizable no-code visual interface that can be built to suit various business roles.
Highly-rated data versioning support.
SOAP Web services support.
Tibco MDM price: Available upon request
6. Ataccama ONE
Ataccama offers ONE, a highly automated data management tool that can be run on-premise, in the cloud, or in a hybrid setup. Key features include:
Machine learning-based data curation, cleaning and classification.
Automated metadata discovery.
Automated project configuration.
Domain agnostic, but comes pre-configured with pre-built rules for MDM for typical domains such as customer, contact and product.
Connectors for wide range of data types and sources.
GDPR ready.
Full data audit history with detailed log of applied business rules and transformations.
Ataccama ONE price: Available upon request
7. Stibo STEP
Stibo has the distinction of being probably the oldest company on the list, having been founded in the 18th century as a printing company. The data management arm of the company is a younger addition, and STEP, its main data management tool offering, has the following key features:
STEP Workbench UI.
Holistic multidomain MDM platform.
High level of automation.
Automated data and language translation for multinational operations.
Automated review and approval of digital assets.
Enterprise-level master data management.
Stibo STEP price: Available upon request
Best Reference Data Management tools
1. Collibra
Collibra's Reference Data solution has the following key features:
Automates workflows to create new codes and code sets.
Delivers codes and code sets to users in a friendly way.
Performs accurate data mapping to eliminate barriers to data access.
Compares data from different parts of the organization.
Collibra price: Available upon request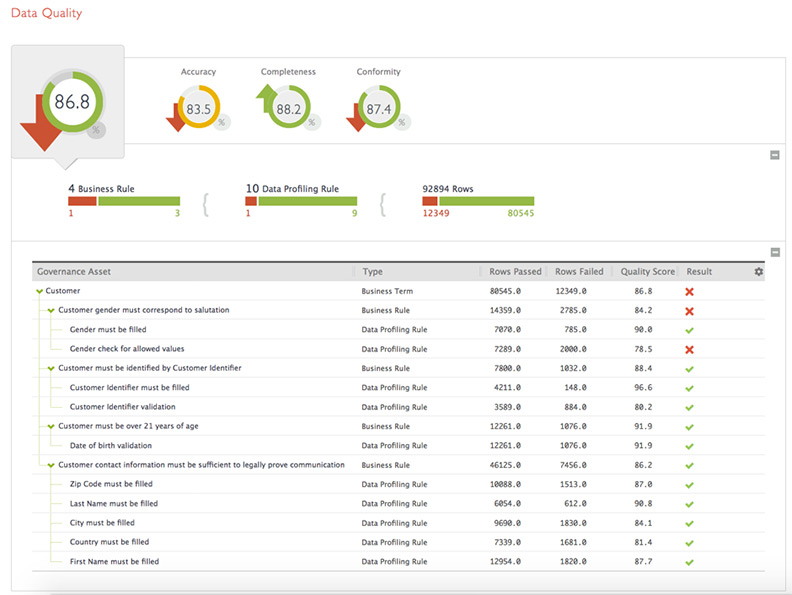 2. Magnitude
Magnitude's Reference Data Management has the following key features:
Multi-domain modeling - supports business structures from code lists to multi-path, self-referencing hierarchies.
Automation - provides automation, governance and control over reference data objects and load processes.
Mapping - provides global to local, external to internal, and specific to general mapping with no disruption to existing elements.
Governance - provides a customizable workflow to control business processes related to reference data, with model-based security controls allowing users to view, add or update.
Time variance - enables users to change models, subjects, attributes and associations and retrieve any previous version of the object.
Magnitude Reference Data Management price: Available upon request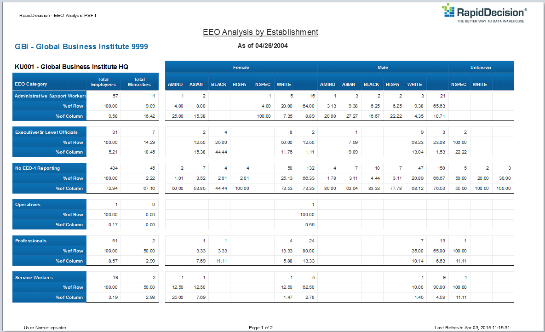 3. Informatica MDM Reference 360
Informatica's MDM Reference 360 has the following key features:
Fully cloud-based - improved performance and scalability.
End-to-end platform - embedded data integration, data quality, process management.
Self service - Master Data Management and workflows built for business users with no technical background.
Match and merge - merges and cross-references data from new types and sources.
Informatica MDM Reference 360 price: Available upon request
4. Reltio Cloud
Reltio makes Reltio Cloud, a graph-based master data management tool that includes reference data management tools. Reltio is built on graph databases to give it maximum flexibility, both in scaling data stores and in defining clear relationships between the data in your repository. Other key features:
Easy integration with existing MDM tools and/or other data sources.
User friendly interface.
Always-available cloud platform makes zero-downtime upgrades possible.
Reltio Cloud price: Available upon request
Best ETL and data integration tools
For the comprehensive list of EL tools check out our list of top ETL tools.
1. Informatica Powercenter
Informatica Powercenter is an on-premise ETL tool with the following key features:
Seamless connectivity and integration with all types of data sources using out-of-the-box connectors.
Automated data validation - script-free automated audit and validation of data moved or transformed.
Advanced data transformations - supports non-relational data, able to parse XML, JSON, PDF, Microsoft Office and IoT data.
Metadata-driven management - provides graphical views of data flows, impact and lineage.
Informatica PowerCenter price: $2,000/month for the most basic plan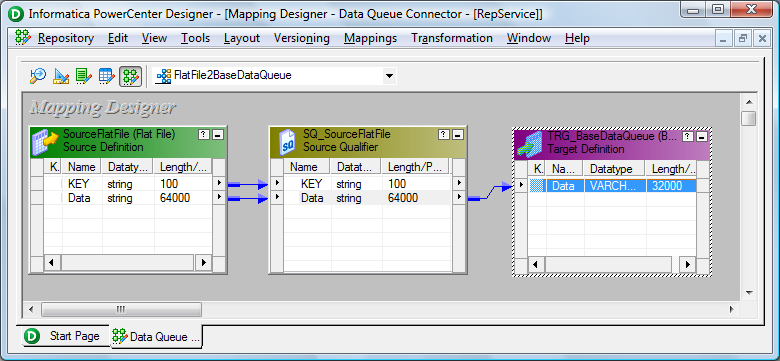 2. Stitch Data
Stitch Data is a cloud-based ETL platform with following key features:
Pre-integrated with dozens of data sources on and off the cloud, moves data into Amazon Redshift, S3, BigQuery, Panoply, PostgreSQL, and more.
Easy scheduling for data replication.
Error handling and alerting with automated resolution when possible.
API and JSON framework, letting you push data into a data warehouse programmatically.
Managed cloud service with automatic scaling and enterprise-grade SLAs.
Stitch price: $100 - $1,000/month based on data size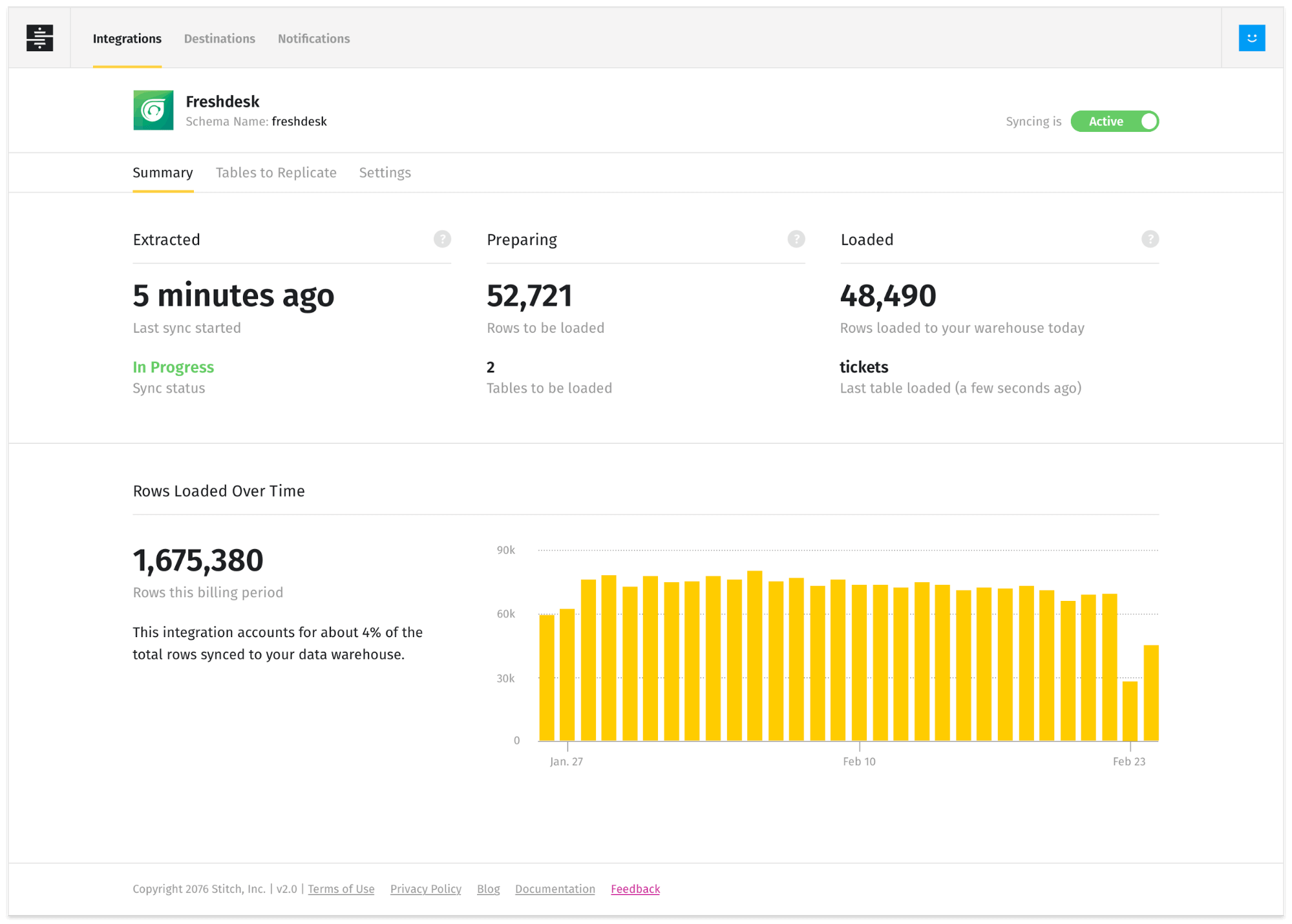 3. Blendo
Blendo is another cloud-based ETL and data integration service, with the following key features:
Self service - connects to numerous data sources with a few clicks, moves data to Amazon Redshift, Panoply, PostgreSQL, MS SQL Server, and more.
Historical data - loads and synchronizes historical data from cloud services.
Scheduled loading - load data periodically or at selected frequencies from different data sources.
Data scheme optimization - automated collection, detection and preparation of data using optimal relational schema.
Blendo price: Available upon request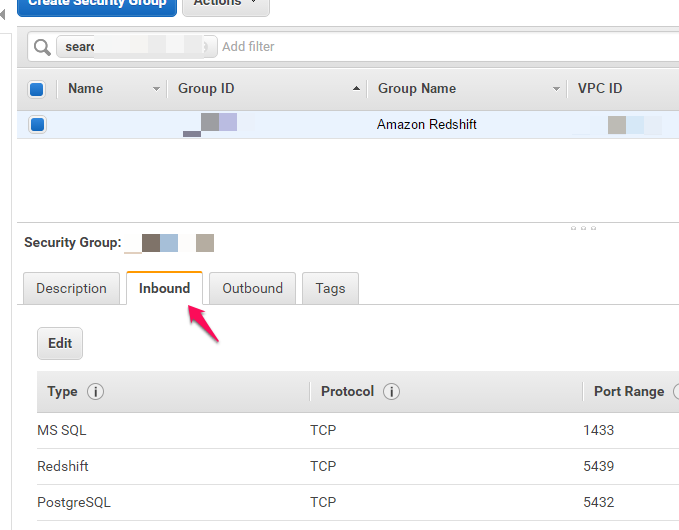 4. Microsoft SQL Server SSIS
Microsoft offers SSIS, a graphical interface for managing ETL using MS SQL Server. Key features include:
Easy-to-use interface allows users to deploy integrated data warehousing solutions without having to get involved with writing much--or any--code.
Graphical interface allows for easy drag-and-drop ETL for multiple data types and warehouse destinations, including non-MS DBs.
Great solution for a team with a mix of technical skill levels, as it's equally effective for ETL ninjas and point-and-click types alike.
SSIS price: $931 - $15,000
5. Azure Data Factory
In addition to SQL Server SSIS, Microsoft's on-premise ETL solution, the company also offers Azure Data Factory (ADF), an ETL tool for their cloud-based Azure platform. Key features of ADF:
ETL pipelines in ADF are built in a graphical interface, allowing for low-code use.
Wide variety of data connectors for easy data ingestion--except, strangely, support for loading Microsoft Excel files.
Full support for loading data into Azure data warehouses
Azure Data Factory price: $1 for 1,000 runs per month
6. Fivetran
Fivetran is a fully-managed data pipeline with a web interface that integrates data from SaaS services and databases into a single data warehouse. Key features:
Provides direct integration and sends data over a direct secure connection using a sophisticated caching layer.
Caching layer helps to move data from one point to another without ever storing a copy on the application server.
Fivetran does not impose any data limit.
Can be used to centralize a company's data and integrate all sources to determine Key Performance Indicators (KPIs) across an entire organization.
Fivetran price: Available upon request
7. Talend
Talend open source data integration software products provide software to integrate, cleanse, mask and profile data. Key features of Talend offerings include:
GUI that enables managing a large number of source systems using standard connectors.
Master Data Management (MDM) functionality
Single, consistent and accurate view of key enterprise data.
Talend price: $1,170/user monthly or $12,000 annually
8. Alooma
Alooma offers an enterprise-scale data integration platform with great ETL tools built in. Some key features of Alooma offerings:
Strong focus on rapid pipeline construction, data quality monitoring and error handling.
Protection against loss or corruption of data in a potentially error-prone ETL process.
Flexibility to intervene and write your own scripts to monitor, clean and move your data as needed.
Designed for enterprise-scale operations.
Alooma price: $1,000 - $15,000/month
Best analytics and visualization tools
1. Tableau
Tableau is a BI platform available both on the cloud and as downloadable software, with the following key features:
Easily connects to data sources.
Allows easy access to visualizations for teams, partners and clients.
Enables unlimited data exploration with interactive dashboards.
Creates "dashboard starters", actionable dashboards setup in minutes with data from popular web applications.
Creates interactive maps automatically.
Tableau price: $35-$70 per user per month.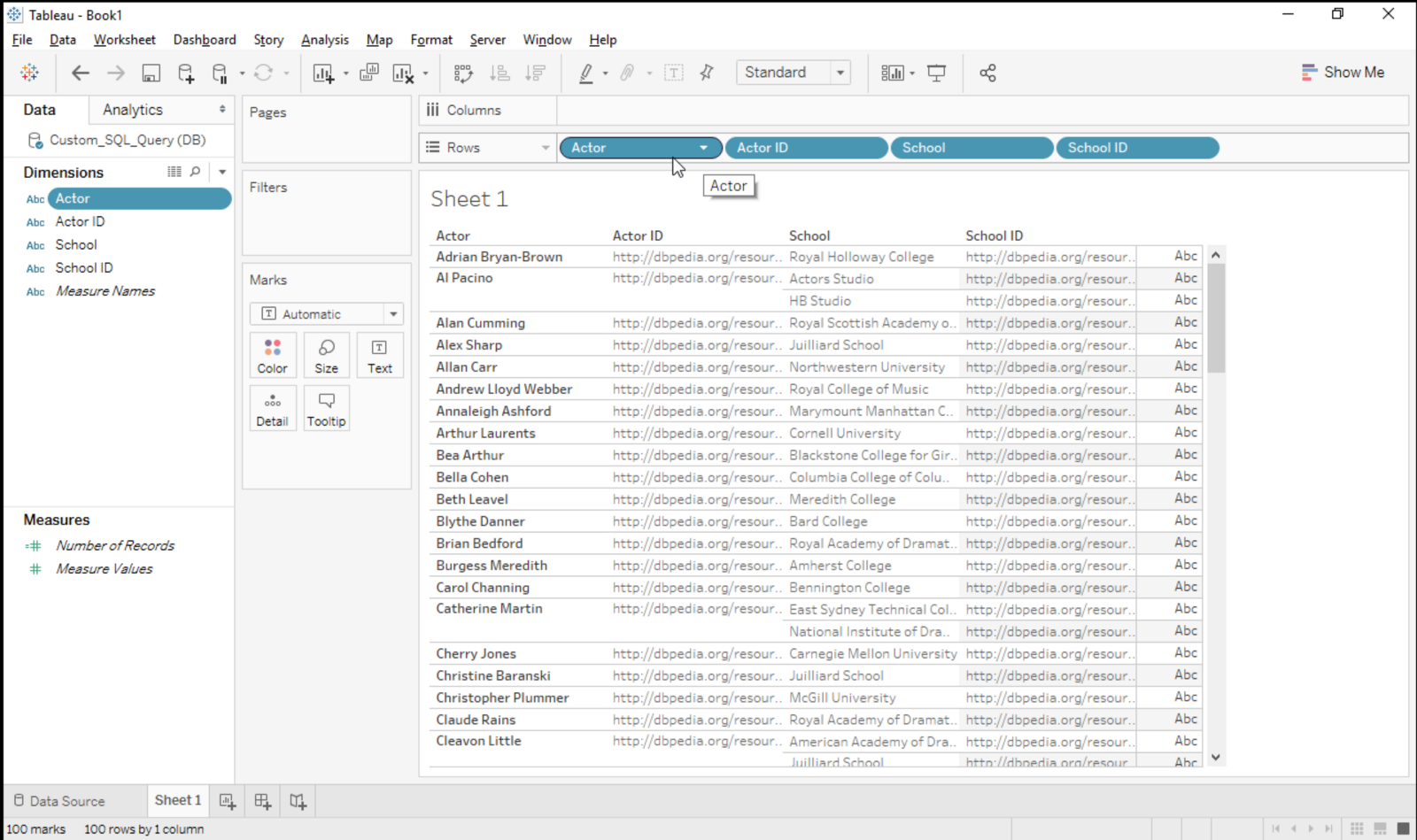 2. Chartio
Chartio is a cloud-based BI and visualization platform with the following key features:
Interactive mode - drag and drop data to create, filter and share dashboards.
SQL mode - communicate with databases in SQL to directly extract insights.
Data layering - add successive transformation steps to data to transform query results.
Visualizations and charts - instantly visualize data; Chartio recommends the most appropriate chart.
Data blending and drill downs - combine disparate data sources on the fly and get actionable insights without exploring raw data.
Chartio price: $249/month for a team license.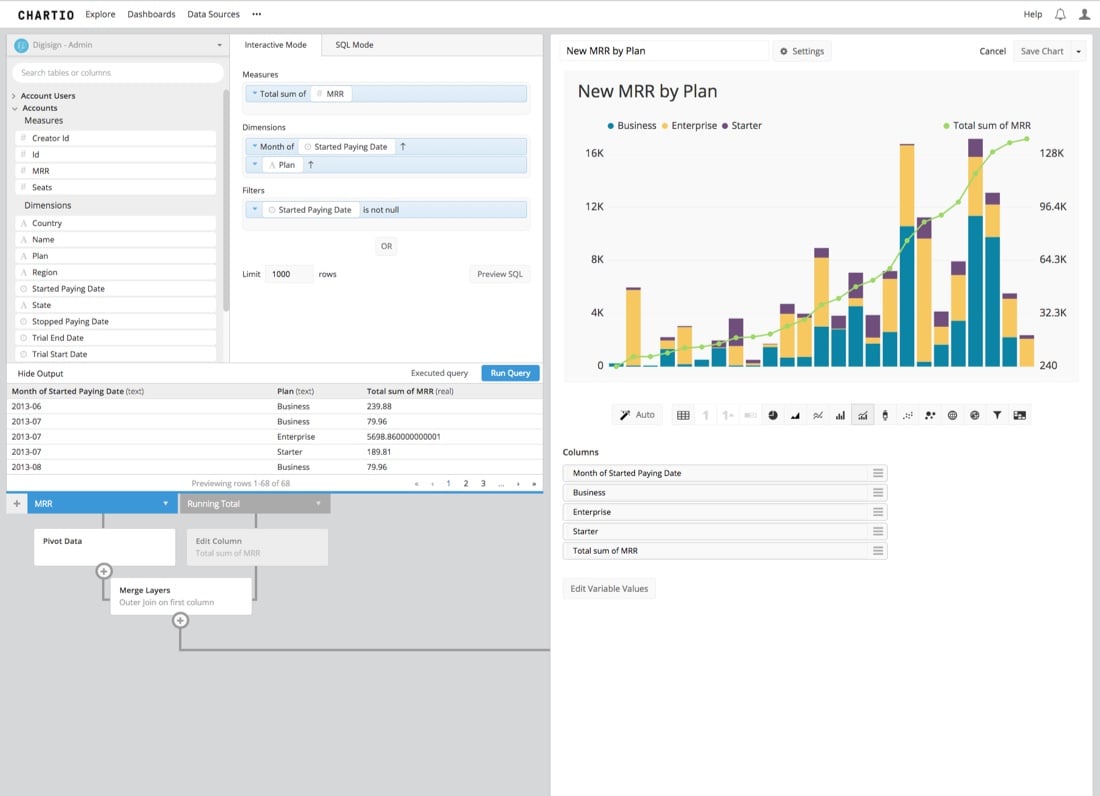 3. Looker BI
Looker is another cloud-based analytics and visualization platform, with the following key features:
Define metrics once using LookML, Looker's simple data modeling language, and Looker writes SQL queries to answer any question on those metrics.
Make data beautiful with easy-to-read dashboards that allow users to drill in and explore.
Connect directly to databases, with no extracts or software to download.
Open access to dashboards and reports to everyone, not just analysts or data scientists.
Looker price: $3,000 - $5,000 per month for 10 users.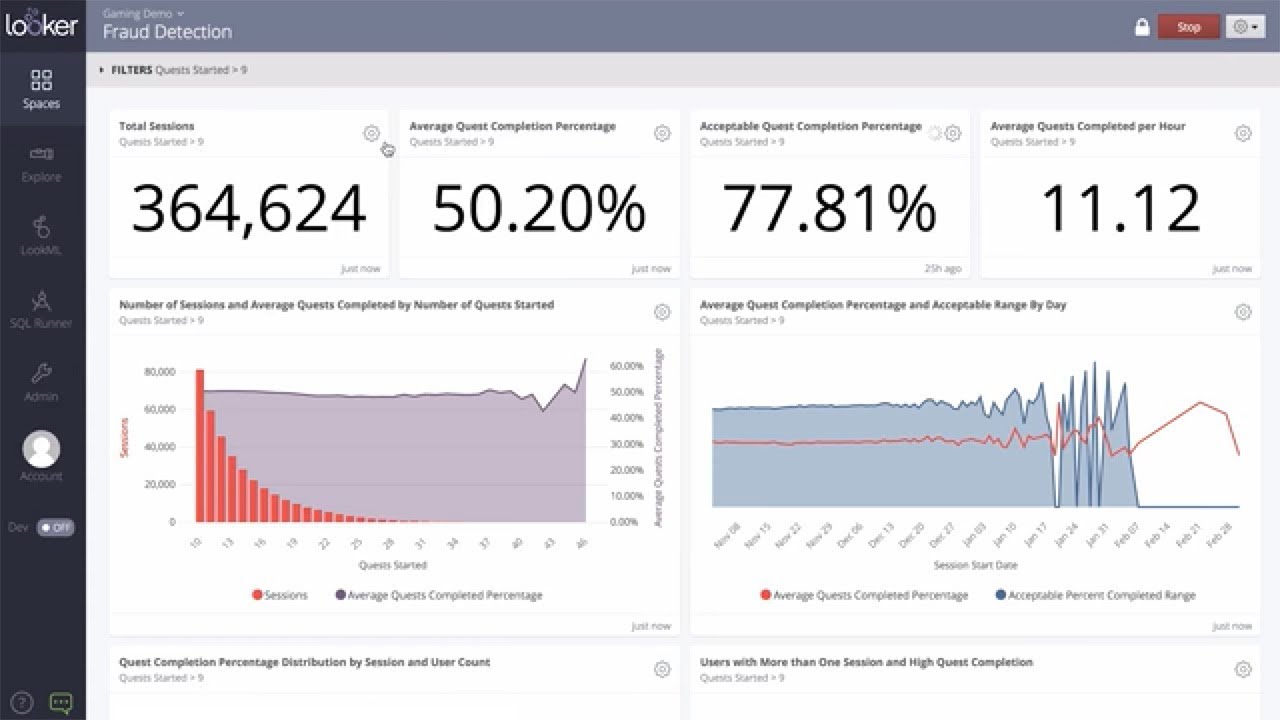 4. Domo
Domo offers a user-friendly, no-code interface for doing a variety of data tasks. As a data visualization tool, it offers:
Hundreds of native data connectors.
A workbench solution that you can run on your own server with encryption to keep your data safe in-house.
Easy functionality for working with regulated (i.e. government or healthcare data).
85 different data visualization options to choose from.
Domo price: Available upon request, but third party sources indicate a starting price of $996 per user per year for up to 20 users for their Standard Plan.
5. Microsoft Power BI
Power BI, Microsoft's offering in the business analytics space, is designed to be useful for business analysts and data scientists alike. Main features:
Simple drag-and-drop interface that is designed to be familiar to users of MS Excel.
Power BI is a no-code platform, and offers both desktop and web clients.
Library of pre-built connectors
Performance tends to lag on very large data sets--look elsewhere for big data solutions
Microsoft Power BI price: $9.99 per user per month, or free for the basic version.
6. Mode Analytics
Mode Analytics offers a web-based data analytics suite aimed at data scientists and analysts, with a focus on collaboration and sharing. Some of Mode's key features:
Designed to make it especially easy to connect your data sources to their built-in SQL editor and visualization platform.
Mode can pipe the results of your SQL queries directly into an R or Pandas dataframe in a Mode-native notebook.
Share the data, analysis and resulting dashboard all through Mode.
Mode is a good choice for a team of data scientists who want to be able to collaborate more easily.
Mode Analytics price: available upon request.
Towards automated data management
We covered four ways of thinking about data management tools - Reference Data Management, Master Data Management (MDM), ETL and big data analytics - and a few great tools in each category.
As data infrastructure moves to the cloud, more of the data stack becomes managed and fully integrated. There is no replacement for managing business processes around structured data in large organizations. But cloud-based platforms can help with much of the data management strategy - from treatment and preparation of raw data, to data ingestion, loading, transformation, optimization and visualization - automatically in a single system.
For example, Panoply's cloud-based automated data warehouse can connect directly to data sources, manage data loading, clean and prepare data using natural language processing and machine learning, and apply transformations to make it ready for analysis. Tools which provide an integrated big data stack take us one step closer to a truly holistic concept of data management.