We're excited to announce our new Flex Connector - the Panoply connector for any data source. While our native Snap Connectors let you connect to a wide variety of popular tools, the universal Flex Connector gets you your data from any API source without a Snap connector (more on those below). Using Panoply for everything instead of connecting through a third-party source saves costs and improves simplicity.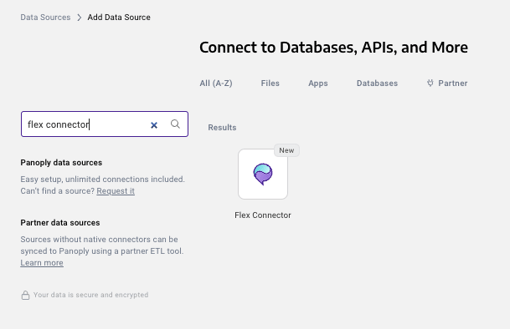 The Difference
Snap Connectors are our pre-built and fully managed ELT connectors that pull data from common apps and databases to your Panoply data warehouse. They're easy to set up in just a few clicks, so engineers and non-technical people alike can sync data in a snap.
The Flex Connector enables users to build pipelines to bring in data from a variety of sources, services, or APIs. This makes the Panoply platform even more flexible, no matter what data you're looking to analyze, and is especially useful for those using proprietary or less common tools. It also saves time and money by removing the need for a third-party ELT tool.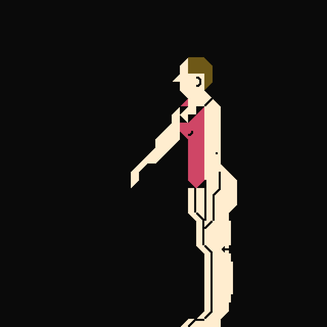 The main difference between Snap and Flex Connectors is the speed and ease of use. Snap Connectors only need access to your data source and a couple of set-up questions, so you're collecting data within minutes. The Flex Connector requires a bit more technical knowledge and understanding of where your data is coming from, but don't let that give you pause - users on our Standard tier and above will have the help of our Customer Success Engineers along the way, and will help to make sure you're getting all the data you need.
If your business uses any less common apps, you can still get all your data into a single source of truth.
The Value
For new customers, this addition makes vendor selection easier and more cost-effective; for existing customers, it streamlines your data importing process. Previously, if a user needed to sync data from a service that didn't have a Snap Connector, they had to find other ways to get their data into Panoply - often with a third-party tool. Now, instead of spending critical time and money integrating with outside tools, all your connectors are right in your Panoply instance. With the Flex Connector and our new visualization capability, the Panoply platform is now truly a one-stop-shop for data warehousing, ELT, and fast insights into your business data.
As we constantly develop new ways to make the Panoply platform even more powerful and user-friendly, we're excited to bring you this feature. If you're an existing user and want more information on how to set up data sources through Flex Connector, contact our support team through the in-product chat and they'll be happy to walk you through it, or you can check out our documentation here.
If you're new to Panoply, book a demo today to see the Flex Connector and more in action.
And hear more about Flex Connector below from our Head of Product, Alon Brody: