When we remember that we are all mad the mysteries disappear, and life stands explained.
- Mark Twain
Merriam-Webster (Definition):
Be - to equal in meaning; to belong to the class of ; to have an objective existence…
Weird - of strange or extraordinary character…
All that have walked by Panoply's booths, saw a poster or randomly picked up a Panoply T-shirt have seen the "Be Weird" sign dangling beneath a pinkish purple dragon.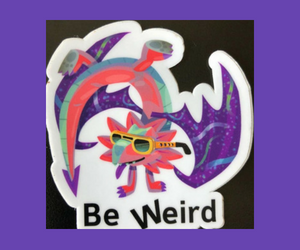 This would be expected in a less traditional industry, but in the decades old data warehousing market, anything outside the gray and blue is frowned upon as a lesser, unwelcomed outsider, so to all those who look for the traditional, we say please, look elsewhere.
But...
For those who dare to defy the archaic laws of tradition, to challenge the art of possible, to Be Bold, Be Alive, Be Amazing we say "Be Weird, Be Panoply."
Every day, when we set out to build the world's only smart data warehouse, we think outside of the accepted, because the accepted does not work in today's world. Traditional data warehousing solutions like Teradata DW, Oracle 12c & 18c, Vertica, Redshift, SQL-DW, Snowflake, Big Query, etc... solve IT challenges. They have been evolving along the same evolutionary scale of price and performance geared towards IT, each evolutionary step migrating the users from the former. This evolutionary track is ok, but that's all it is, "ok", because in essence it only delays the scaling challenges and sanctifies the data management problem.
With Panoply, we challenged evolution, by building the world's only smart data warehouse for BI. We did this by incorporating machine learning and natural language processing to automate highly diverse data integration, query optimization and elastic data management providing a self-serve, select and connect data warehouse streamlined to non-IT...i.e. "engineers optional."
Life is short, when we "Be Weird" we "Break the Rules," we "Be Ourselves" we "Experience Freedom"... we "Be Bold, Be Amazing, Be Panoply."
March on,
Yaniv
We'd love to hear from you. What's one word you'd use to describe yourself professionally?
(Answers anonymous)