ed. note: The latest data warehouse trends report is now available. Download it today.
re:Invent, Amazon Web Services' yearly conference for data scientists, analysts and business intelligence (BI) professionals, provides information, direction, and guidance for businesses and industries that use data to gain insights into audience and buyer behaviors. Due to the broad spectrum of business and individual attendees, it's a great place for companies like Panoply to get our finger on the pulse of the cloud data industry, and discern trends in usage, application, education and integration.
The news Amazon rolled out at re:Invent 2017 included a number of AI-based services and tools, and given our recently-unveiled industry-leading, AI-driven Smart Cloud Data Warehouse, the Panoply team was excited to be there.
Last year, we polled re:Invent attendees on solution types, usage and adoption of data solutions. This year we continued that approach, digging into data warehousing choices, concerns about simplicity of solutions and challenges users were facing with their current data warehouse.
Here's what we learned
Cloud data warehousing is solidly in the majority, but on prem is still relevant
While more than a fifth of respondents are still weighing their data warehousing options, 65% of those with a data warehouse in place are looking to the cloud.

The push toward BI continues
The survey recorded a more than 5% decrease in respondents indicating that they were not using any type of data visualization. Unsurprisingly, there was a corresponding increase in the use of leading BI tools like Tableau and PowerBI.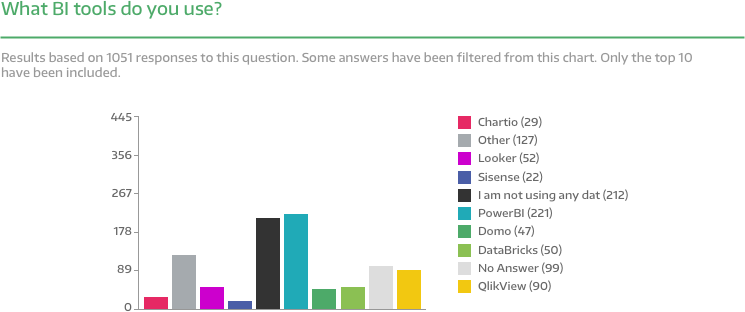 Data's either really easy, or really hard
Nearly 40% of respondents felt the operational complexity of their data warehousing solution was easy or very easy. But the other side was nearly equally represented.

How can such a stark divide exist in the industry, when many users are utilizing similar warehouses or tools? The secret is typically a combination of personnel (expertise) and product, which shows how important the right product can be to a simple, streamlined solution.
Here's how we learned it
Visitors to the Panoply booth were given access to a short survey to provide a glimpse into the thoughts and observations from a broad cross-section of users drawn to re:Invent, and to reinforce findings from leading analysts like Gartner about how, why, and when big data users are learning about, reading about, and applying data analysis and business intelligence practices in their respective industries.
Respondents ran the gamut of roles, job levels, and company sizes, giving the survey a good overview of the re:Invent 2017 cohort and their feelings about data warehousing. We appreciated attendees' feedback and are excited to share some early findings from our re:Invent 2017 survey in appreciation of everyone's participation.
More than 1,000 re:Invent attendees were polled, accounting for about 3% of the total conference attendance, and while the complete results are still being compiled, the survey has already provided some interesting insights into the current data analysis landscape and how much it's changed since last year.
Compared to the previous years' results, the momentum of the industry is leading toward increased usage of cloud-based BI solutions, better control of data transformation and ingestion processes, and increased simplicity of data management and query optimization.
The full survey report will be available for download soon at Panoply and in the meantime, check out last year's results.